Trends
Top influencers
macilree
SharedUseCntr
PaulABarter
ACEA_eu
StreetsblogUSA
MobilityLabTeam
TSCatapult
TheEconomist
transportgooru
Top sources
smartcitiesdive.com
ec.europa.eu
acea.be
economist.com
europa.eu
iru.org
mailchi.mp
mobilitylab.org
movmi.net
News
MaaS has the potential to transform cities, but first, we need a new paradigm for how we are using it.
MaaS has the potential to transform cities, but first, we need a new paradigm for how we are using it.
Has Ridehailing been a good addition to the transport network? Have a read at this article and tell us what you think. https://t.co/DQOTSPQs0U https://t.co/VWm7vYbAls
Open
After complaints were made by San Francisco-based taxi operators, 'UberCab' became what it is today and was renamed to simply 'Uber.' After estimating demand that was more similar to a ...
RT @d2twelve: Elevating the #Future of #Mobility to ultimately create a more integrated transportation system that is faster, cheaper, cleaner, and safer than today's with 🔘 Passenger Drones 🔘 Flying Cars @DeloitteStratOp RT @WSWMUC #AirTaxi #DigitalTransformation https://t.co/27U2H2CRjx https://t.co/XyuuqCTj4e
Open
​While flying cars may sound as if they belong to science fiction, technology seems to have brought them closer to reality—potentially helping to create a faster, cheaper, cleaner, safer, ...
Quote of the weekend: Shared scooters and bikes "have nearly unlimited potential to reduce car use," with 60 percent of vehicle trips less than 6 miles, many even shorter - Mobility Lab Director Paul Mackie in the @sfchronicle, https://t.co/O9LIPWeroj Nice report from @CSaid. https://t.co/bOXeC6hWrP
Open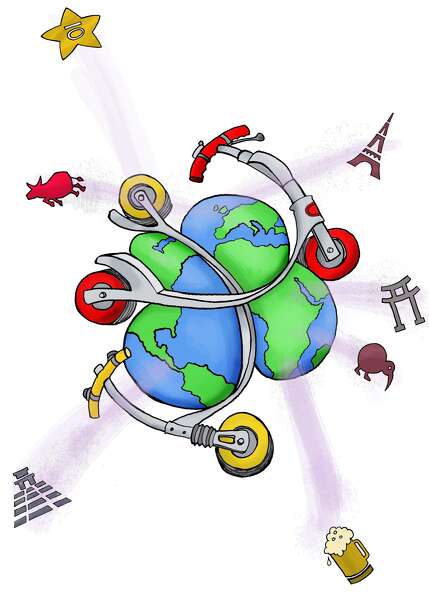 His green-framed sunglasses perched on his head, Toby Sun balanced on one green-Nike-clad foot on an electric scooter parked inside a downtown San Francisco office and proudly proclaimed ...
Start your day with the latest issue of the Mobility Hub. #sharedmobility https://t.co/qzPbQTgRSL
Open
SUMC's weekly guide to the news, events, and technologies that are shaping the future of transportation.
How did I miss this one? Just added the Micromobility podcast with @oliverbruce and @asymco to my LONG list of urban-mobility and urban-issue #podcasts. This is the 30th addition since the original list. https://t.co/0j9Hwbyyuk https://t.co/GwHIfdXs5D
Open
As part of my preparations to start podcasting, I have been searching for more urban mobility and urbanism shows . So I thought I would sha...
RT @sudhirgota: Low Carbon buses in #China - How "efficient" are they? A new research by @adbtransport provides valuable insights for cities trying to include electric buses in their fleet. I summarise main findings of the report below https://t.co/sIDnMFzJGj #transportemissions https://t.co/1zJFllPNbI
Open
Challenges for Low-Carbon Bus Support Policies 44 C. Conclusions Concerning Future Challenges 46 VII Conclusions and Recommendations 47 Appendixes 1 Methodological Aspects 49 2 Low-Carbon ...
RT @isabel4climate: Thanks @transenv for this analysis https://t.co/rd4ZA0w7Y2. For those who think too ambitious targets are being set, 2040 might be too late for the #decarbonisation of cars in Europe #ParisAgreement #cities4climate @mitecogob @ITF_Forum @Transport_EU @CIVITAS_EU @mobilityweek
Open
Previous studies by DLR (for Greenpeace)xvii and the Öko Institut (for Transport & Environment)xviii on carbon budgets show that, in order to limit global temperature rises to 1.5ºC with ...
@barbchamberlain We've written quite a bit about suburban and rural differences. This is a big question for MOD and shared mobility services. Where do they fit and fill gaps best? For more, please see: https://t.co/LZ1XuFgau2 and https://t.co/Lha3CUnbRb https://t.co/S0d9gyuyJM
Open
viii | MOD Operational Concept Report – Final List of Tables Table 1: Key Takeaways ...
RT @iki_bmu: Interview: @chriskost, Programme Director at @ITDPAfrica speaks about the challenges in the field of #transportation in #EastAfrica and #ITDP's IKI project 'Growing Smarter: Sustainable Mobility in East Africa' that is implemented in 🇰🇪🇷🇼🇹🇿🇺🇬. ➡️ https://t.co/OOU9FXspUP https://t.co/gQZ9pzZ5H2
Open
Since 2008, the International Climate Initiative (ICI) of the Federal Ministry for the Environment, Nature Conservation and Nuclear Safety (BMU) has been financing climate and biodiversity ...